Weddings & Engagement Parties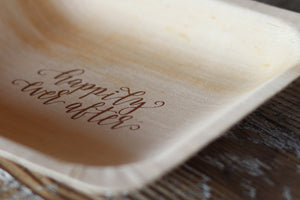 Intricate, by Design
Featuring festive messages hand-lettered by an expert calligrapher, these plates bring attention to detail to another level.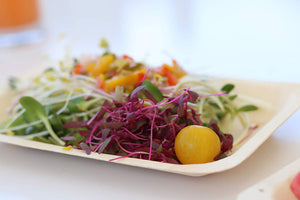 Elegant + Durable
Built with durability in mind, these plates are ready to take the cake (and a whole lot more).
100% Compostable
Make an impact on your guests without making one on the environment, with eco-friendly plates that are 100% compostable.
These were the talk of the engagement party. Love that my family was supportive of more sustainable options and good ditching the plastic!
Maria
I love these plates! I used them for our cocktail hour at our forest-themed wedding and they were perfect! The quality and appearance went beyond my expectations!
Happy customer
These were great! We served our wedding cake on them at our reception. Very durable and cute. Would buy them again.
Happy customer
These plates held up very well to cake and ice cream, as well as using them for fruit salad servings. Very pleased with their appearance and heftiness.
Happy customer
These plates received many positive comments at our party. They are sturdy and great looking. The Celebrate written in script gives an elegant look to a casual item and the rectangular shape created a different look for a party plate.
Joanne J